Power BI Development
Power BI provides interactive visualizations and business intelligence capabilities with an interface which provides users to create their own reports and dashboards. Power BI is used to transform raw data into meaningful insights.
STPL is implementing Power BI to encourage employees to develop data analysis and visualization skills.
Power BI provides STPL quick access to insights and ability to respond rapidly to market changes, and a data-driven approach to decision-making.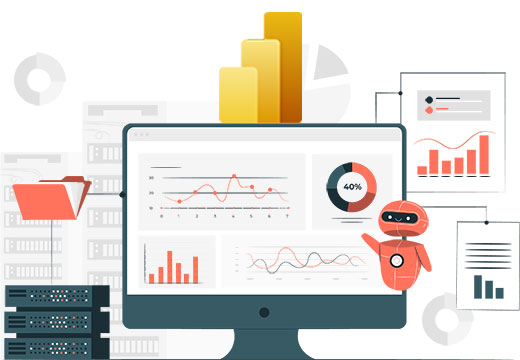 Key Benefits
Power BI allows users to create visualizations, including charts, graphs, maps, and tables.
Power BI provides tools to clean, transform, and shape data from various sources.
Power BI supports a wide range of data sources, including databases, cloud services, Excel spreadsheets.
Power BI can connect to real-time data streams and update visualizations in real-time.
Power BI offers robust security features, including data encryption, access control, and compliance certifications.

Why STPL
STPL believes not in one-time projects, we believe in establishing a long-term partnership.
STPL provides quality, cost-effectiveness in the products developed by them.
STPL believes in robust security measures to protect data and systems from cyber threats.
STPL has a committed and highly motivated team.
STPL is capable of delivering the project on specified time as per client's requirement.
>