Artificial Intelligence &
Machine Learning
STPL has always been on the cutting edge of the technology. Machine Learning, the forerunner of Artificial Intelligence, has been deployed for several solutions developed by us. We have likewise taken Artificial intelligence in our stride. The company has a pool of AI & ML programmers. We have developed remarkable capabilities to work in the following business domains-
Biometrics
Content Creation
Image Recognition
Machine Learning Platforms
Decision Management
Deep Learning Platforms
Robotic Process Automation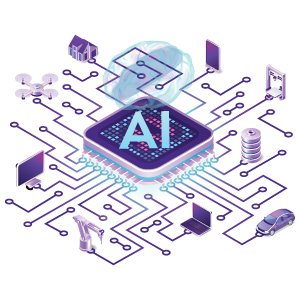 We are continuously involved in driving innovation and transforming businesses across different industries. With our expertise and advanced algorithms, we enable organizations to unlock the full potential of data and gain a competitive edge in the digital age.
Benefits Businesses derive deploying Artificial Intelligence and Machine Learning:
Digital Assistance
Automation
Smart and faster Decision Making
Supporting Medical consultations
Pattern Identification
Enhanced Customer Experience
Research and Data Analysis
Solving Complex Problems
Increased Business Efficiency
Handling multidimensional and high-variance data
Why STPL
STPL has AI and ML experience resources that help to provide a faster solution.
We have a world-class R&D lab to start any new scientific project or POC from scratch.
Fully capable to meet all levels of business requirements.
All projects are managed by highly experienced project managers.
STPL is a CMMI-3 company where you work with true process-oriented professionals.
R&D faster by tapping into our 10+ years of engineering expertise.