Artificial Intelligence &
Machine Learning
STPL has always been on the cutting edge of the technology. Machine Learning, the forerunner of Artificial Intelligence, has been deployed for several solutions developed by us. We have likewise taken Artificial intelligence in our stride. The company has a pool of AI & ML programmers. We have developed remarkable capabilities to work in the following business domains
Biometrics
Content Creation
Image Recognition
Machine Learning Platforms
Decision Management
Deep Learning Platforms
Robotic Process Automation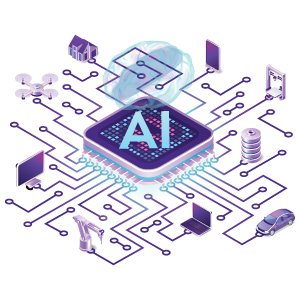 We are continuously involved in driving innovation and transforming businesses across different industries. With our expertise and advanced algorithms, we enable organizations to unlock the full potential of data and gain a competitive edge in the digital age.
Benefits Businesses derive deploying Artificial Intelligence and Machine Learning:
Digital Assistance
Automation
Smart and faster Decision Making
Supporting Medical consultations.
Pattern Identification
Enhanced Customer Experience
Research and Data Analysis
Solving Complex Problems
Increased Business Efficiency
Handling multidimensional and high-variance data
Why STPL
STPL has AI and ML experience resources that help to provide a faster solution.
We have a world-class R&D lab to start any new scientific project or POC from scratch.
Fully capable to meet all levels of business requirements.
All projects are managed by highly experienced project managers.
STPL is a CMMI-3 company where you work with true process-oriented professionals.
R&D faster by tapping into our 10+ years of engineering expertise.
Modern methodology of unifying development and operations, is denoted DevOps. A complete package of software development protocols has been introduced to build a better communication between two technology governing units:
Development +Operation = DevOps.
STPL is your trusted partner for cutting-edge DevOps solutions. Unlock the true potential of your software development lifecycle with our comprehensive DevOps solutions. we understand the ever-evolving challenges of modern software development and the need for seamless collaboration between development and operations teams. Our expert team is dedicated to providing you with customized solutions that streamline your processes, increase efficiency, and accelerate your time to market.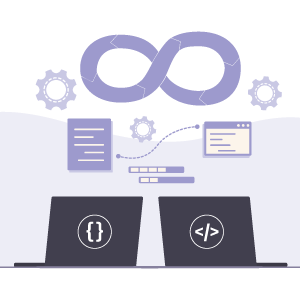 Our DevOps solutions facilitate seamless collaboration between development and operations teams, breaking down silos and fostering a culture of continuous integration and delivery. By automating build, test, and deployment processes, we enable faster and more frequent software releases, reducing time-to-market and boosting productivity.
Security is a top priority for us. We integrate security practices seamlessly into your DevOps pipeline, ensuring that your applications are protected throughout the development and deployment process. Our solutions also assist in maintaining regulatory compliance, helping you meet industry standards and safeguard sensitive data.
Accelerate your business journey towards automation for optimized and innovative operations, continuous delivery, improved security, and limited risk during deployment.
DevOps can reduce the runtime of development lifecycle phases with aligned objectives. The disruptor can possibly shift the large-scale project system implementation into an uninterrupted application delivery system thus elevating the business stability pace with a better delivery process.
Key Benefits
Accelerated Time-to-Market.
Enhanced Collaboration.
Improved Stability and Reliability.
Scalability and Flexibility.
Continuous Improvement.
Why STPL
STPL has a pool of DevOps programmers.
DevOps Integration and Deployment by highly experienced developers.
DevOps Managed Service with capable project managers.
Integrate existing tools with authorized open-source tools helpful in the agile delivery process.
Create a roadmap by observing your current business process and coming up with the required tools for tracking.
Monitoring and Manageme Service.
Designing a customized framework suitable for your project.
Integrate existing tools with authorized open-source tools helpful in the agile delivery process.
Data Science &
Programming
Exploiting the latest trends in Data Sciences by leveraging Artificial Intelligence, Machine Learning, and Deep Learning technologies, STPL Data Scientists have created high-standard business solutions based on collecting data which generates high revenue by converting information into knowledge.
Data Science will aid you to obtain the proficiency to make clear-sightedness decisions that are the finest for your organization. STPL is a one-stop solution provider for defining goals, categorizing the target audience, and making excellent decisions to enhance the immense value of your businesses.
Cognizance is a strong potential for any business, and the Data is the power that builds this potential. Owing to this huge growing aspect of data, Data Science enters into the realm multidisciplinary specialization.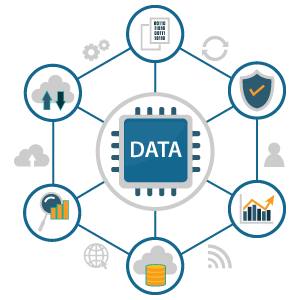 Our experts utilize advanced statistical models, machine learning algorithms, and data visualization techniques to transform raw data into actionable intelligence. With this knowledge, you can make strategic decisions that fuel growth, increase efficiency, and drive profitability.
Key Benefits
Enhanced Decision-Making.
Improved Efficiency and Productivity.
Predictive Analytics and Forecasting.
Personalized Customer Experiences.
Innovative Product Development.
Why STPL
Solving complex challenges for any sources.
STPL has experience and Lead Data Scientist
End-to-End capabilities.
Data Science consulting services.
Improved operational efficiency.
Data quality checks and standardization services.
Developing complete end-to-end Data Pipelines.